Schooltime Giveaway (Glue Sticks & Crayons Giveaway)
Schooltime Giveaway
I am giving away a $25 Gift Card to one lucky winner!
Entering is super simple
Scroll on down to the
Schooltime Giveaway Hop
Rafflecopter below and push a few buttons.
(I love pushing buttons and I've found some new ones….) 😉
The giveaway lasts until the end of September 6, 2017.
There are many bonus points available daily
so come back each day to increase your chances.
When you've entered my giveaway
 Head over to enter all of the other giveaways below.
Maybe you can win more than just one Giveaway!
Find me on social media at all of the following:
One of my lucky followers will win a giveaway this month on my social media just for following me, commenting, and liking my posts.
Thanks for joining in on my journey!
*unfollowing disqualifies you from all future giveaways.
Check out this awesome new gadget I just got to make cooking eggs much more interesting!!! I'm loving how well it works.
a Rafflecopter giveaway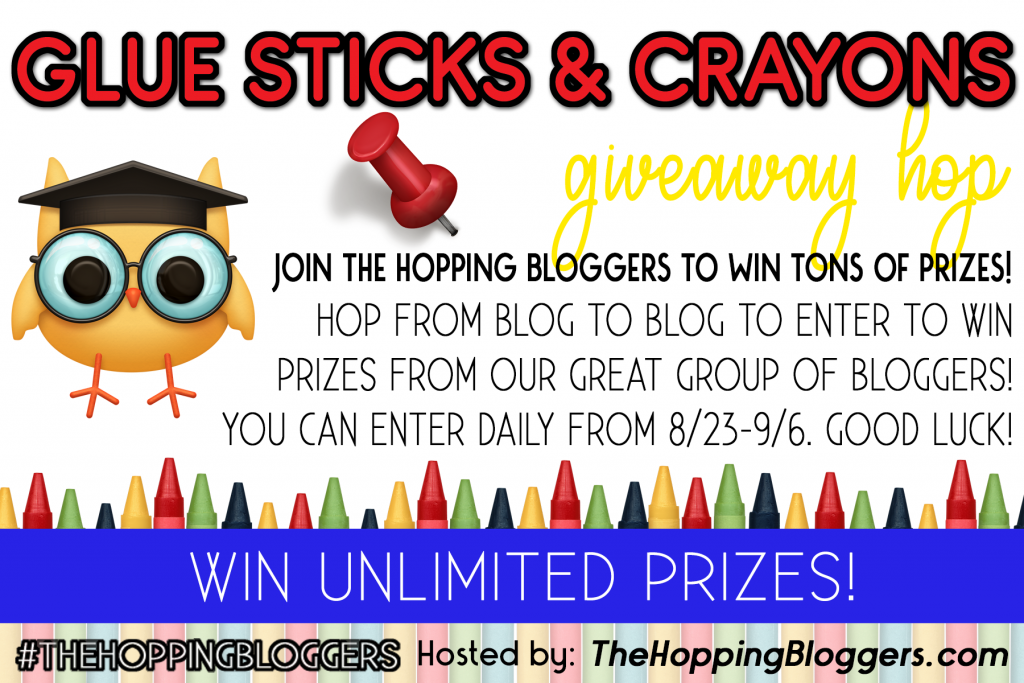 Welcome to the Glue Sticks & Crayons Giveaway Hop brought to you by The Hopping Bloggers!
Hosted By: Mama's Geeky & Women and Their Pretties
Co-Hosted By: Rockin' Book Reviews & Teacups and Fairy Tales
Each giveaway has a value of a minimum of $15, however some are worth much more. Be sure to enter to win all of them because there is no limit to how many you can win. GOOD LUCK!
If you're a blogger looking to connect with brands: Join The Hopping Bloggers database and get started today!
If you're a brand looking to work with a network of professional bloggers: Check out the creative campaigns The Hopping Bloggers has to offer!
Entry is only available to persons 18 years of age or over. You may be asked, at any stage, to provide proof of age and/or identity. Employees and relatives of Wild Redhead Homestead shall not be eligible to enter the raffle. Winner specifically acknowledges that winner shall be responsible for the payment of all tax, title fees, license fees, insurance requirements and other charges as may be required under any law, ordinance, statute, regulation or otherwise. Wild Redhead Homestead's decision is final with respect to all matters relating to awarding of the prize and shall not be subject to review or appeal by any entrant or by any third party. Your participation in the raffle is deemed your agreement that Wild Redhead Homestead may use your name, likeness or image for promotional and marketing purposes without the requirement or any payment to you and you hereby grant Wild Redhead Homestead the right to do the same and expressly waive any claims against Wild Redhead Homestead in this regard. The prize is neither transferable nor exchangeable and cannot be exchanged for money or money's worth. By entering the raffle each entrant unreservedly agrees to these terms and conditions which govern the raffle and the awarding of the prize. By entering the raffle each entrant agrees to release, discharge and hold harmless Wild Redhead Homestead, its legal representatives, affiliates, subsidiaries, agencies and their respective officers, directors, employees, and agents from any damages whatsoever suffered, sustained or allegedly sustained in connection with the raffle or the acceptance of the prize. The winning entrant shall be solely responsible for any taxes levied in relation to the delivery or receipt of the prize. Wild Redhead Homestead reserves the right to alter these terms and conditions at any time and at its sole discretion. Wild Redhead Homestead reserves the right to, at any time, cancel, modify or suspend the raffle if, in its sole judgment, the raffle is not capable of being conducted as specified. These terms and conditions and any other matters relating hereto shall be governed by and construed in accordance with the laws of Michigan and jurisdiction over any and all disputes shall be exclusive to the state and federal courts in Lansing, Michigan. See my Site Disclosure